Produced as throwaway book-ends for the first year of the Animation Show festival, this "trilogy" of shorts was animated, photographed, and completed in about nine months (Oct 2002 to June 2003), during the off-hours of work on The Meaning of Life, which was at the time three years into production. Shifting gears in the middle of such a difficult project to animate something fun and silly again proved to be a welcome and much needed break. What was originally meant to be a very short set of cartoons to celebrate the Show quickly ballooned into a much wilder and more experimental set of cartoons totalling eight minutes.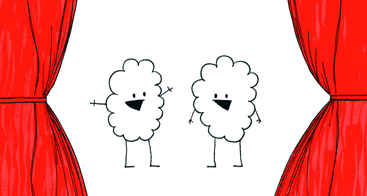 The three shorts rivaled Rejected in total time spent on mixing the soundtracks, at approximately 100 hours. Given the deadline for the Animation Show's premiere screening, the bulk of this intense sound production had to be completed in a two week span of exhausting around the clock work. Like Rejected, Don and Robert May recorded their vocals for the fluffy characters after animation was already completed, though time did not allow for as much improvisation.
Although often mistaken for clouds and once thought to be fish sticks, the fluffy characters are in fact not really meant to be anything specific. Don has described them as his nameless, ageless, sexless, all-purpose cereal box cartoon characters - bland, non-threatening, and ready to be thrust in front of a camera to sell things. It's helpful to think of them as sort of wooly, like sheep.
Collectively, the three films were among Bitter Films' more expensive productions, due in large part to the multitude of special effects and trial and error experimentation required in photography. In addition to several optical effects shots - a backlight process developed for The Meaning of Life but attempted for the first time here - there was a wealth of experimental animation that Don was just trying out for the first time: double exposures, shadow and lighting effects, stop motion hybrids, and more. It seems every third shot required some manner of special effect.
As with all of Don's films, no computers were used in animation production at any stage: the optical backlight effects (fire, lasers, etc) were all achieved traditionally and in-camera, via a process similar in theory to how the optical effects of the original 1977 Star Wars were created. As Don figured out how to pull off more of these effects, more ideas broke through and the three pieces grew.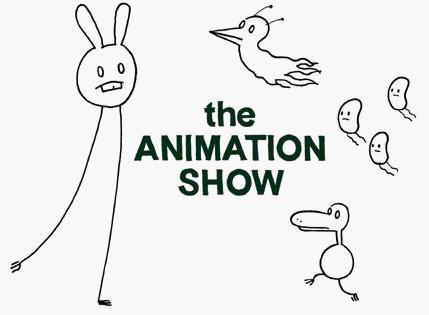 Intermission in the Third Dimension was originally conceived as a true 3D segment for the Animation Show, requiring 3D glasses and specialized photography - however, as time eventually did not allow for such a technical production, the piece was rewritten in spots to make light of this shortcoming.
The original idea for the End of the Show was much shorter and simpler: the characters find themselves winding down until rendered motionless because the Show has "just about run all out of animation." But as the other two pieces became fleshed out and grew more impressive, it was clear that the End would also have to rise to the occasion. Don tossed out the entire segment with only a few months before its deadline and started from scratch to make the finale film much more epic, complete with a robot laser war.
The bubbles that appear in Welcome to the Show are real, courtesy of multiple exposures, a bubble machine, and a lot of failed takes.
Similarly, Don wanted to use real ants and insects for the lollipop conclusion of Intermission, but could not think of a way to corral them into crawling around in the right spots.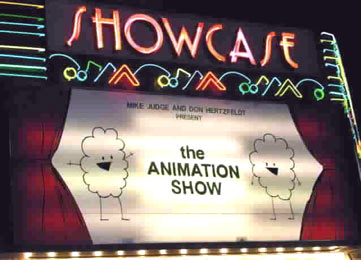 The three year span of production on The Meaning of Life seemed to create alot of pent-up ideas that came flooding out at once. From a 2004 FILM THREAT interview: "...[Meaning of Life] is without a doubt the most difficult thing I've ever tackled in my life... There hasn't been a single shot in this thing that's been easy to produce, and I still have trouble believing I'm already entering year four with it... So being able to whip out three terribly stupid cartoons relatively quickly for the Show was a relief... I got to experiment with some new tricks and relax and have fun with the basics of the process again and throw a bunch of things against the wall without having any pressure. I like two of those three cartoons quite a bit, the other came out a real mess and I still felt great about it because they blew off so much steam."
Learn more about the films in the
BITTER FILMS: VOLUME 1 DVD archive:

- "THE MEANING OF LIFE" TIME LAPSE DOCUMENTARY
- "THE ANIMATION SHOW" TRILOGY CARTOONS
- RARE FOOTAGE FROM DON'S EARLIEST CARTOONS
- ORIGINAL VIDEO PENCIL TESTS
- DELETED SEQUENCES
- "REJECTED" TEXT COMMENTARY BY DON
- "LILY AND JIM" DELETED DIALOGUES AND OUTTAKES
- "THE MEANING OF LIFE" SPECIAL EFFECTS DOCUMENTARY
- "REJECTED" ENTIRELY AWFUL AUDIO COMMENTARY
- "LILY AND JIM" REUNION COMMENTARY
- ABANDONED "SPANKY THE BEAR SHOW" FOOTAGE
- SKETCH TO SCENE COMPARISONS
- EXTENSIVE PRODUCTION NOTES
- NEVER BEFORE SEEN PHOTOS!
- BEFORE SEEN PHOTOS!
- "AH, L'AMOUR" BONUS 2005 SOUNDTRACK
- 16 PAGE RETROSPECTIVE BOOKLET
- BRAND NEW ANIMATED MENUS AND TRANSITIONS

Read more about the production of these films
during 2002-2003 in Don's journal

Production credits
Camera, Writing, Animation, Sound,
Production, and Direction by Don Hertzfeldt
Editing by Rebecca Moline
Voices by Robert May and Don Hertzfeldt
Sound Mixing by Tim Kehl
Copyright 2003 Bitter Films
"Trilogy" exhibition history
2003
The Animation Show

FAN International Animation Festival, Norwich England (Bitter Films retrospective)

I Castelli Animati Animation Festival, Italy (Bitter Films retrospective)

2004
The Animation Show

The Animation Show Voume One DVD

2005
An Evening of Bitter Films: George Eastman House, Rochester NY

Adult Swim: the Cartoon Network, USA ("Intermission" only)

Big Muddy Film Fesitval, IL (Bitter Films retrospective)

2006
Bitter Films Volume One: 1995-2005 DVD

Udigrudi World Animation Convention, Brazil (Bitter Films retrospective)

2007
MTV2 USA broadcast ("Intermission" only)
2008
An Evening with Don Hertzfeldt tour ("Intermission" only)
2009
An Evening with Don Hertzfeldt tour ("Intermission" only)
2010
Image Forum Festival tour, Japan ("Intermission" only)