Evolution on Earth over the course of a billion years. Life is the epic end result of almost four years and tens of thousands of drawings, single-handedly animated and photographed by Don.

As with all our films, no computers were used at any stage of animation or photography. Almost three years were required to complete Life's design and animation, with many complicated sequences demanding several months of work to just produce a few second's worth of finished screen time. The piece was then photographed entirely to 35mm film with all the visual effects meticulously created in-camera, via traditional double exposure and innovative trick photography techniques.

The first ideas for the film - largely constituting what's now the first act - were conceived as early as 1997-8, and were at one point intended to be the first scene of a feature screenplay. The feature fell away but the scene stuck, and eventually evolved into the seed of an idea for a new short. At the time however, Don had no idea how he could possibly animate the dense visuals required of the piece without a computer's help, and moved on to make Billy's Balloon and Rejected. But by 2000 he'd devised an uncharted method of how to potentially animate everything in the film by hand. When Don first described these visuals and his plans for animating them, actor Robert May exclaimed, "Jesus Christ! That's going to take you forever!" As Don started pencil tests, one final lingering concern was whether ordinary sheets of animation paper could actually withstand the multiple drawing passes and compounded amount of work about to be hammered into them, without dissolving into shreds.


In the summer of 2000, over sixty actors recorded vocal performances for over 150 individual characters. Their hundreds of lines of dialogue were then carefully broken down into syllables, a la Lily and Jim's dialogue-heavy production, so that Don could animate lip synch. Once the bulk of this dialogue was ready, animation began in earnest. These intense crowd scenes that make up the film's first act took about two years to animate alone.

Every individual in the crowd was first animated separately and given a distinct performance. After nine months, each finished character was then fine-tuned and gradually traced together onto "master" sheets of paper. At certain points in the crowds there are upwards of fifty characters interacting in full motion at once -- often, these "master" sheets of paper came close to being worn down into overworked cottony mush, but most stayed remarkably intact. During these most active crowd moments, it generally took about 20 to 30 minutes to pencil all of the individual characters into a single frame, and then an additional 15 minutes to carefully ink them.

A portion of this intense workload is captured in the time lapse documentary, "Watching Grass Grow", featured on the Bitter Films: Volume 1 DVD.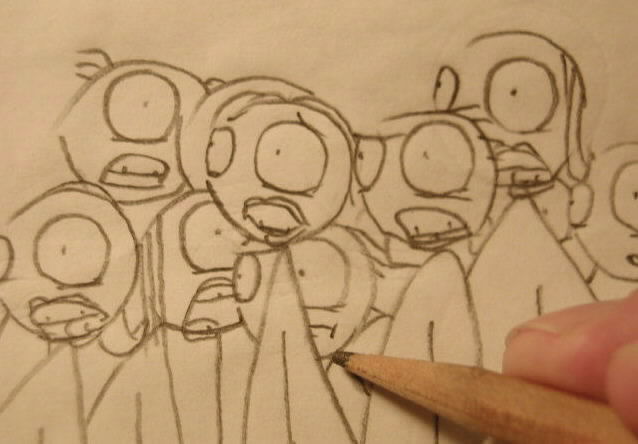 By the end of 2002, the entire finished crowd sequence amounted to a relatively modestly-sized but frighteningly irreplaceable stack of paper that was stored in a fireproof safe. At one point near the sequence's completion it was considered perfectly logical to store the fireproof safe inside of a larger fireproof safe.

Don has described the unexpectedly long process of animating this film as, "like etching a novel into a rock one letter at a time with your fingernails". The entire piece is trapped in your head but the process of releasing it drags on with no end in sight.

Although a nine month break from the film arrived after two years with the launch of the first Animation Show and the production of a short Trilogy of cartoons for it, Don gradually sunk into a deep depression for much of 2001-2004.. alongside continued shooting pains in his inking wrist.

From an October 2002 journal entry:

i think i've reached a new point where my mind just doesn't want to work on this film anymore.. it is protesting this ridiculous production and marching around my skull with little picket signs. i hope there will not be an uprising. forcing myself to sit down and keep on seven days a week after all this time is getting more and more difficult, very frustrating, very flighty and distracted, fighting to stay on target.. the animator's job when you really break it down is one of sitting in a chair staring at the same stuff for many many months on end. after this long i think i must be getting desperate to stare at something new. trying very hard not to get batty. when i was shooting that first roll a couple weeks ago i had to stop off to buy a few groceries and the checkout girl said 'hello' and i said 'hello' and then after she rang me up she said 'there you go have a nice night' and i stood there dazed for a second and i actually could not remember the words for 'thank you' and blurted out 'hello' again and staggered off. i want to be on a tropical island... it took two days to animate an exactly one second test of this special effects footage [a sun test of the first outer space sequence] and that will hopefully prove whether what i want to pull off for the actual film will be possible.

Work on the Animation Show's trilogy cartoons in 2003 provided a very helpful testing ground for much of The Meaning of Life's experimental photography, including atmospherics, multiple exposure tricks, and bolder uses of color and shadow. The trilogy cartoon's fire, explosion, and laser effects were particularly created in order to test out the back-lighting process in advance of Meaning of Life's intensive space and star sequences. Even the "blur" effects that were pioneered in Rejected appear throughout the film in more refined form.

Contrary to some first impressions the film actually takes place entirely on Earth, with no "aliens" involved.

Tchaikovksy's Piano Concerto No.1 was always the piece in mind to be The Meaning of Life's theme, and the mid-film trip from the Earth and back was specifically animated to a key selection from the Nutcracker Suite. The rest of Life's lush Tchaikovsky soundtrack however, was remixed and gradually shaped together entirely during editing, well after animation and photography were already largely finished.

The sound effects in the "time lapse" sequences are a combination of hummingbird wings and a noise Don made with his mouth.

The long outer space shot that opens the film's second act took many months to design, animate, and watercolor, followed by over two weeks of careful camera work - to date our most expensive and difficult to photograph sequence, by far. This uncut 45 second shot is made up of over 100 separate animated elements, each of them individually requiring the single film strip to be backwound in the camera and carefully re-photographed over and over again. Given this overwhelming load of multiple exposures, if Don had made a single mistake behind the camera or in his math, the negative would be ruined and the process would have had to start all over again.



From Don's March 2003 journal entries:

in the past three days i've logged over 20 hours shooting in the studio and my brain is now made of nerf or a nerf like material.. it seems as these films get more and more complex i'm having to find twice as much time to shoot them properly.. have spent the last ten days slowly wading through the photography of the big space sequence and will probably take another ten to finish. even though it's only about 45 seconds long, the scene is made up of approximately 100 multiple exposures to contend with, all of them moving about the screen in tandem so there's plenty of slow careful balancing work involved.. should i screw up just one frame of them the whole take goes down the drain... i'm having to shoot in total darkness with horrible flourescent backlights that fog my vision with a weird gray haze over the top half of everything i see.. at first i thought it was smoke and the studio was on fire but then i learned that i need to avoid staring into the lights so much.. last night i dreamt there were several snails crawling out of my bath tub drain. i asked somebody what to do about it and he suggested using a blowtorch. i said, but that would mess up my pipes! and he said, oh yeah

The length and scope of the film's "animal" sequences expanded far beyond their original conception, eventually rivaling the human crowd scenes in difficulty. Their unique sounds were created by heavily experimenting with existing animal noises, human vocal performances, and believe it or not, squeak toys. As the months pressed on, animal sequences were often thrown out or entirely reworked simply because the scenes developing around them were being animated better as Don kept learning new tricks. The marriage of music and animation in the completed "flight sequence" became one of Don's proudest moments. From the journal, January 2004:

a big task in all of these final scenes is getting the animals moving in ways that nobody has ever seen animals move before.. keeping that believable is not an easy trick. so its shaping up to be another month to get thru 30 seconds of finished animation, which seems to be pretty par for course now.. the flying sequences are coming together really well but still painstaking... have been obsessively noticing birds everywhere i go now, and sat at the traffic light staring at a flock of them swirl after evening bugs over the corner gas station, distantly thinking about how difficult that must have been to animate. yesterday i was watching the big white herons by the bluffs and thought their movement didn't look quite right. back in school deep in "lily & jim" i remember staring sleepless at people's mouths around town, thinking they all seemed 2-3 frames out of sync when they spoke... i think the first time i watch this film in full, all of these years will spontaneously catch up with me and i'll wither up and implode into a shrivelled, twitchy mooing relic. i don't know why mooing.

The pivotal beach scene that opens the film's third act was actually not conceived until April of 2004, almost four years into production. It was eventually photographed in August 2004 and finally provided the film with an anchor. The beautiful sunset colors and shadows that glide across the scene were painstakingly achieved via stop motion animation, by slowly moving colored gels and strategically placed scrims off-screen, as the artwork was photographed one frame at a time.


(click for related gallery pictures)
Eventually, over 45 minutes of footage was shot for Life's final 12 minute running time -- an large shooting ratio for any animated film, due to the unprecedented amount of experiments and trial-and-error. A good portion of footage was also spent on creating and perfecting the film's outer space scenes from scratch. All of these hand-crafted shots began by transforming Don's effects animation and star fields (as well as some charcoal artwork), into line negatives. These pieces were then back-lit, often layered with plastic sheets to create diffusion, tinted, and then cobbled together in-camera through multiple exposure, using any means necessary to get the right effect on film. One moving field was mounted on a diagonal plane of glass, to create depth. Other elements were carefully captured by actually rotating star fields by hand, with the camera running above.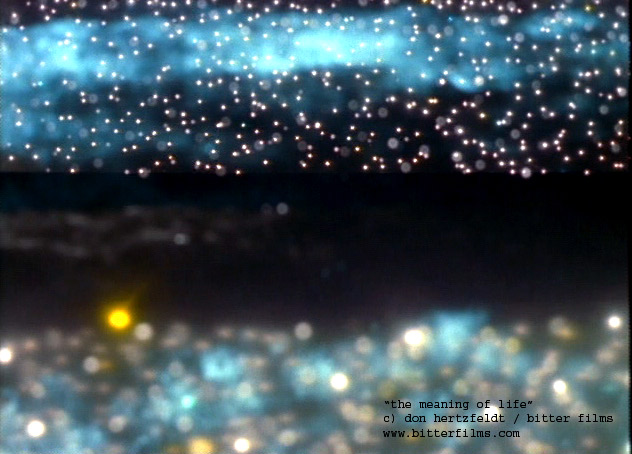 Learn more about the film in the
BITTER FILMS: VOLUME 1 DVD archive:

- "THE MEANING OF LIFE" TIME LAPSE DOCUMENTARY
- "THE ANIMATION SHOW" TRILOGY CARTOONS
- RARE FOOTAGE FROM DON'S EARLIEST CARTOONS
- ORIGINAL VIDEO PENCIL TESTS
- DELETED SEQUENCES
- "REJECTED" TEXT COMMENTARY BY DON
- "LILY AND JIM" DELETED DIALOGUES AND OUTTAKES
- "THE MEANING OF LIFE" SPECIAL EFFECTS DOCUMENTARY
- "REJECTED" ENTIRELY AWFUL AUDIO COMMENTARY
- "LILY AND JIM" REUNION COMMENTARY
- ABANDONED "SPANKY THE BEAR SHOW" FOOTAGE
- SKETCH TO SCENE COMPARISONS
- EXTENSIVE PRODUCTION NOTES
- NEVER BEFORE SEEN PHOTOS!
- BEFORE SEEN PHOTOS!
- "AH, L'AMOUR" BONUS 2005 SOUNDTRACK
- 16 PAGE RETROSPECTIVE BOOKLET
- BRAND NEW ANIMATED MENUS AND TRANSITIONS

read more about the film's production from 2000-2004 in Don's journal and in past interviews.



Production credits
Camera, Writing, Animation, Sound,
Production, and Direction by Don Hertzfeldt

Film Editing and Dialogue Editing by Rebecca Moline
Music by Pyotr Tchaikovsky
Dialogue Breakdown by Brian Hamblin
Sound Mixing by Tim Kehl
Lead Vocals by Don Hertzfeldt, Robert May,
Jennifer Nyholm, Sara Cushman, June Shields,
Kenneth Cook, and Karin Anger
Copyright 2005 Bitter Films


"The Meaning of Life" reviews