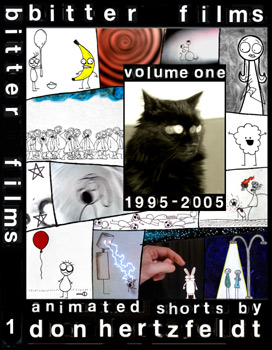 now
available
the special features
WATCHING GRASS GROW:
ANIMATING "THE MEANING OF LIFE"
THE BITTER FILMS ARCHIVES: AN EXHAUSTIVE 140+ PAGE CHRONOLOGICAL HISTORY OF RARE MATERIALS, INCLUDING:

RARE FOOTAGE FROM DON'S EARLIEST CARTOONS
ORIGINAL PENCIL TESTS
DELETED SEQUENCES
ABANDONED "SPANKY THE BEAR SHOW" FOOTAGE
SKETCH TO SCENE COMPARISONS
EXTENSIVE PRODUCTION NOTES
NEVER BEFORE SEEN PHOTOS!
BEFORE SEEN PHOTOS!
"LILY AND JIM" DELETED DIALOGUES
"REJECTED" TEXT COMMENTARY
"THE MEANING OF LIFE" SPECIAL EFFECTS DOCUMENTARY
"REJECTED" AUDIO COMMENTARY
"LILY AND JIM" REUNION COMMENTARY
"AH, L'AMOUR" BONUS 2005 SOUNDTRACK
PREVIEW OF "EVERYTHING WILL BE OK"
"ANIMATION SHOW" FEATURETTE AND INTERVIEWS
16 PAGE RETROSPECTIVE BOOKLET
BRAND NEW ANIMATED MENUS AND TRANSITIONS