A hopeless blind date goes from very bad to much worse.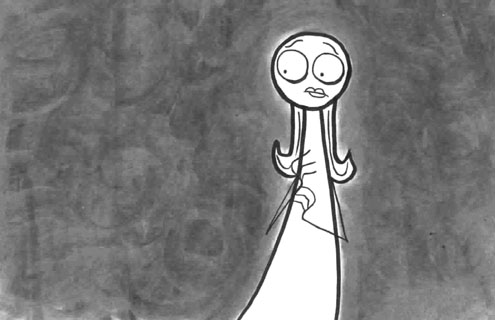 About a year and a half in the making, Don's third student film began with Robert May and Karin Anger's vocal performances, which were a seamless blend of Don's scripted dialogue and their own amazing improvisational material. Don forced the two to simply sit and converse with no comfortable preparation, resulting in many painful segments including the I Love Lucy, sock puppets, and "do you have any gum?" conversations. Their improvisations eventually grew to a couple of hours of very funny material (the best outtakes of which were restored and are now available as a special feature on the Bitter Films: Volume One DVD), and Don trimmed his script to make room for these natural moments. Unfortunately, the recording sessions were the only fun part of making the thirteen minute short, and Don was frantically rewriting, re-recording, and re-animating scenes straight through the final month while juggling school in the meantime.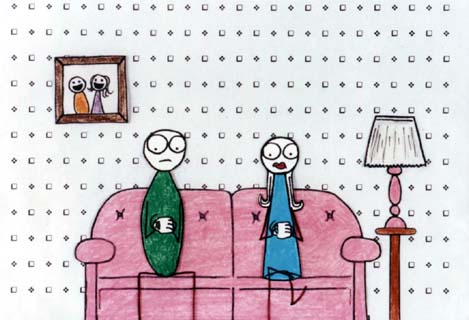 Don taught himself lip-synch animation by studying Aardman Animation shorts. All the finished dialogue in the movie was slowly broken down by hand and transcribed into phoenetic syllables. Before the age of digital editing, this was done by tediously running all the sound tapes one frame at a time under a magnetic sound head and transcribing all the conversations by hand. This allowed Don to sync his animation down to every frame of dialogue.
Previous student films "Ah, L'amour" and "Genre" were animated in "twos and threes". This refers to how many drawings are photographed per second. "Threes" means every drawing is photographed onto three frames - since film runs at 24 frames per second, that means 8 drawings go by every second. "Lily" was the first of his films to be animated entirely in "ones" and "twos." Animating in "twos" means 12 drawings go by every second, and "ones" means 24 drawings go by every second. This level of quality was deemed necessary to fluidly capture the quick and subtle animation in Lily and Jim's mouths. The short eventually required several thousands of drawings.
The movie also marked the first time in the cartoons that cel overlays were used, primarily for static foregrounds or backgrounds (this method was later used again for all the hanging clouds in "Billy's Balloon"). Everything else onscreen is simply drawn over and over again, which creates the jiggling effect. (Aside from staying static, you can also usually tell when a cel's in use in these early films when the white paper grain grows more intense. Lighting the cels from scene to scene on the 16mm animation stand was difficult and often required back-lighting, which made some shots grainier than others.)
The ambient sounds of the restaurant were captured by spending a day quietly eating at bad diners with a concealed microphone.
Each of the thousands of "interview" drawings had to be individually charcoaled and then sprayed with fixer chemicals that read "not for extended use." Don's carpets slowly turned black with charcoal dust and he was still coughing up black soot for weeks after production ended.
The short's magnetic dialogue tracks were constantly wandering out of synch while the lab's color timing (the scene to scene chemical timing that should have ideally yielded white backgrounds from shot to shot), was only consistent in its inconsistency: apparently something was wrong with the camera's lighting, and cuts were bouncing from pink tints to blue tints back to pink again. If the projection is framed incorrectly, the restaurant table legs can be seen to float during certain shots. During the restaurant scene, Jim's glass of water mysteriously disappears and reappears. To the last day of production, the student production was barely holding together with spit and splice tape.
There is a very strange 8 frame jump-cut during the restaurant scene (a medium shot of Bill suddenly cuts to close up), that inexplicably appeared after the negative was cut. It should have thrown the soundtrack out of synch by 8 frames, but just as inexplicably didn't. The space-time continuum was broken with 16mm film, and the phantom jump-cut was left in the final edit.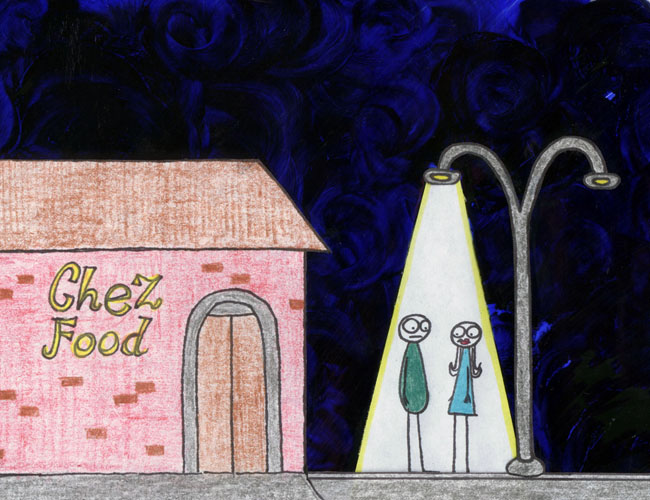 The picture was directed like a cold documentary to create added tension and discomfort: the characters give direct to camera interviews, shots are left lingering for too long, and there is only one camera movement in the entire film.
Lily and Jim occupy only their respective right and left hand sides of the screen throughout the entire film.
Lily and Jim do not refer to each other by name at all throughout the short, because it was untitled until the very last minute. The working title was "Small Talk," and the script referred to the characters as just "guy" and "girl." Don chose Lily and Jim for the title out of the blue, because the two names just sounded right together.
Robert's mouth was stuffed with tissues for his allergic reaction performance.
Editor Brian Hamblin performs all the television's audio in Lily's apartment (save the explosions). It was meant to be used only as a demo track for editing, but everyone liked it enough to leave it unchanged.
On the festival circuit, the short received twenty-five awards, including Best of Festival Grand Prizes from both the 1997 New Orleans Film Festival and the 1998 USA Film Festival in Texas.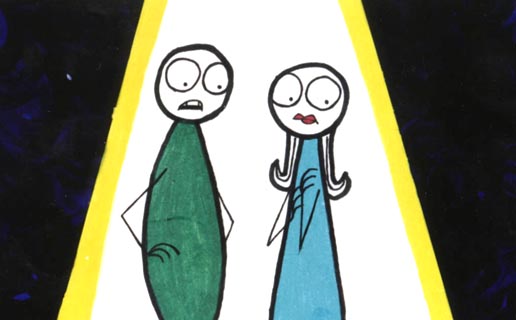 Learn more about the film in the
BITTER FILMS: VOLUME 1 DVD archive:

- "THE MEANING OF LIFE" TIME LAPSE DOCUMENTARY
- "THE ANIMATION SHOW" TRILOGY CARTOONS
- RARE FOOTAGE FROM DON'S EARLIEST CARTOONS
- ORIGINAL VIDEO PENCIL TESTS
- DELETED SEQUENCES
- "REJECTED" TEXT COMMENTARY BY DON
- "LILY AND JIM" DELETED DIALOGUES AND OUTTAKES
- "THE MEANING OF LIFE" SPECIAL EFFECTS DOCUMENTARY
- "REJECTED" ENTIRELY AWFUL AUDIO COMMENTARY
- "LILY AND JIM" REUNION COMMENTARY
- ABANDONED "SPANKY THE BEAR SHOW" FOOTAGE
- SKETCH TO SCENE COMPARISONS
- EXTENSIVE PRODUCTION NOTES
- NEVER BEFORE SEEN PHOTOS!
- BEFORE SEEN PHOTOS!
- "AH, L'AMOUR" BONUS 2005 SOUNDTRACK
- 16 PAGE RETROSPECTIVE BOOKLET
- BRAND NEW ANIMATED MENUS AND TRANSITIONS
Production Credits
Produced, Animated, and Directed by Don Hertzfeldt
Written by Don Hertzfeldt,
with additional material by Karin Anger and Robert May
Voice of Lily: Karin Anger
Voice of Jim: Robert May
with additional voices by Brian Hamblin
Camera by Aimee R. Haeussler
Sound and Editing by Brian Hamblin
Sound Mixing by Tim Kehl and Kevin Kelly
Closing Music by Beth Waters
Copyright 1997 Bitter Films

"Lily and Jim" reviews
* * * * (four stars)... "A hilarious animated film which documents a blind date gone bad. Simple stick figures combined with great voice acting had the audience laughing so hard, I missed a lot of the dialogue. Keep an eye on animator Don Hertzfeldt, he's the Mike Judge for the next millenium."
Chris Gore, FILM THREAT weekly online

"...so funny and smart because the characters were realized in a manner that made them wonderfully expressive... winning at the USA Festival qualifies it to contend for an Oscar. And it's good enough to win an Oscar, too... a wildly popular selection with the audience... the unanimous choice for Grand Prize winner."
Elvis Mitchell

"...this animated stick figure piece captured all the imaginable awkwardness of a blind date and, for that matter, the anxiety of dating in general. Absolutely hilarious, especially the 'TV shows'... the judges felt so strongly about Lily and Jim... that they created the [animation] category on the spot. This simply-drawn 15 minute skit about an excruciatingly awkward blind date had the Morton [Theater] howling. One of the funniest films of the fest."
Ballard Lesemann, Athens Flagpole, GA

"You may remember Hertzfeldt's work from Cucalorus [film festival], where it brought the house down. Especially poignant is Lily and Jim, which details the hilariously disastrous blind date of two nervous stick figures."
Encore Magazine

"...part of the charm of Lily and Jim is its no-nonsense execution. But the heart and soul of this film blossom in the brutal honesty of its writing, which blends actors Robert May and Karin Anger's funny improvisations with Hertzfeldt's scripted dialogue. The winning combination of telling observations and off-the-wall musings adds to the immediacy of the cartoon's neurotic timing... It is only natural that the artist chose to model his animation after the actors' body language and how they carried themselves, thus heightening the final effect."
Neil Kendricks, San Diego Union Tribune

"Excellent work... The sly vocal work by actors Robert May and Karin Anger is part improv, part scripted, and the whole of it works like a bitter charm."
Marc Savlov, Austin Chronicle

"It's about these two SCARY looking animated circle headed big eyed shy blind date people.. Made me feel good, even though it's one hell of a bittersweet pill to swallow."
Harry Knowles, Ain't it Cool News

"But there's one real star here: 23-year-old Don Hertzfeldt, who says more about the trials of modern romance with a few minutes of his maladjusted stick figures in Lily and Jim and the gruesome, gleefully puerile Ah L'Amour than, say, Kevin Smith did in all of Chasing Amy... lo-fi, distinctly American aesthetic..."
Sean Richardson, Boston Phoenix

"Lily and Jim is an original and witty look at the subject of blind dates and deserves all of the credit it has received."
Elliot Kolkovich, Daily Illini

"Lily and Jim is a lovely look at the blind date of two neurotic romantics, in which everything goes wrong."
Peter Stack, San Francisco Chronicle

"..nightmarishly hilarious..."
F.X. Feeney, LA Weekly

"Of the remaining shorts, my favorite is Lily and Jim... a funny story about a blind date... with all its silly conversational forays and classic rationalizations..."
Walter Addiego, San Francisco Examiner

"Lily and Jim ranks up there as one of the funniest animated shorts I've ever seen. I saw this film in the theater at the Spike and Mike Festival and the crowd was roaring in laughter. Yet again, a Don Hertzfeldt classic."
Evan Backes, www.staytooned.com

"...gut-busting funny...the simple drawings take on real bite."
Tom Long, the Detroit News

"...darkly funny..."
John Hartl, Seattle Times
"Don Hertzfeldt's Lily and Jim, the painfully funny anatomy of a nightmarish blind date, is the best of these and is worth seeing again..."
Paul Sherman, Boston Herald
"A highlight of the festival is the animation of Don Hertzfeldt and his company, Bitter Films. His film, Lily and Jim, tells a hilarious story about a blind date gone allergically awry. The conversation between Lily and Jim is witty and serves as fitting examples of the conversation that takes place during a pitiful date..."
Andrew Freedman, Tufts Daily Online

"...delightful... this is a moving ode to neurotic romanticism."
Charlotte Observer

"A film that would have been disturbing in a live-action format can be rendered extremely funny and endearing by using cartooning as a distancing device... This is certainly the case with Lily and Jim. This short from the perpetually romance-bitter Don Hertzfeldt depicts possibly the worst blind date in the world, and is bearable only because we're watching stick figures."
Jason Haas, Wesleyan Argus, CT
Awards for "Lily and Jim"
1997
Grand Prize, Best of Festival - New Orleans Film Festival
Best Animated Film - New Frontiers Film Festival
Best Animated Film - Athens Film Festival, GA
Gold Plaque, Best Student Animation - Chicago International Film Festival
Second Place Animation - Fort Lauderdale International Film Festival
1998
Grand Prize, Best of Festival and Best Animated Film - USA Film Festival
Best Animated Film - Carolina Film Festival
Best Animated Film - Brandywine Film Festival
the Golden Knight Award - Golden Knight Festival, Malta
Silver Award, Animation - New York Short Film Expo
Silver Award, Animation - Worldfest Houston
Silver Award, Animation - Crested Butte Reel Fest
Trophy Winner - Rochester Film Festival
Second Place, Animation - Nextframe Film Festival
Second Place, Animation - Palm Springs Film Festival
Second Place, Animation - Central Florida Film Festival
Jury Honorable Mention - Big Muddy Film Festival
Audience Award Honorable Mention - Filmfest New Haven
Bronze Plaque - Columbus International Film Festival
Award of Excellence - Joey Awards
The Golden Elmo - UCSB Film Studies Award
1999
Best Animated Film - Canyonlands Film Festival
Jury Citation for Humor - New York Animation Festival
Animation Honorable Mention - Pacific Coast Film Festival
"Lily and Jim" public exhibition history
1997
New Orleans Film Festival (Grand Prize, Best of Festival)

New Frontiers Film Festival, Canada (Best Animated Film)

Athens Film Festival, Georgia (Best Animated Film)

Chicago International Film Festival (Gold Plaque, Best Student Animation)

Ft. Lauderdale International Film Festival (2nd Place, Animation)

Ohio Independent Film Festival (Off-Hollywood Oscar Nomination)

Green Mountain Independent Film Festival, Vermont

IndieQueens Independent Film Showcase, New York

1998
Spike and Mike's Festival of Animation tour

Cartoon Sushi, MTV Broadcast

USA Film Festival, Texas
(Grand Prize, Best of Festival and Best Animated Film)

Carolina Film Festival (Best Animated Film)

Brandywine Film Festival, Pennsylvania (Best Animated Film)

Golden Knight Festival, Malta (the Golden Knight Award)

New York Short Film Expo (Silver Award, Animation)

Worldfest Houston (Silver Award, Animation)

Crested Butte Reel Fest, CO (Silver Award, Animation)

Rochester Film Festival, NY (Trophy Winner)

Nextframe Film Festival (Second Place, Animation)

Central Florida Film Festival (Second Place, Animation)

Palm Springs Film Festival (Second Place, Animation)

Big Muddy Film Festival, IL (Special Jury Honorable Mention)

Filmfest New Haven, CT (Honorable Mention -- Audience Award)

Columbus International Film Festival (Bronze Plaque)

Joey Awards, San Jose (Award of Excellence)

World Animation Celebration

World Celebration of Animation, Zagreb Croatia (official competition)

Avignon/New York Film Festival

Best of the Athens Film Festival - Athens Metal Health Benefit

Best of the Rochester Film Festival

Flixtour 98 - U.S. University Independent Film Tour

Santa Barbara Film Festival (out of competition)

Detroit Festival of Film

Imagefest, Palo Alto, CA

Peachtree Film Festival, GA

Texas Film Festival

Freaky Film Festival, IL

Humboldt State Film Festival

Melbourne Film Festival, Australia

Palm Beach International Film Festival

Microcinefest, MD

Charlotte Film Festival

New York Armchair Film Festival

Cucalorus Film Festival, NC

Santa Monica Film Festival

Johns Hopkins Film Festival, MD

University of Texas Film Festival

KTEH PBS San Jose, television broadcast

Rehoboth Beach Film Festival, DE

Atlanta Film Festival

Laguna Beach Film Festival, CA

Best of the Atlanta Film Festival

Temecula Valley Film Festival, CA

Minneapolis, St. Paul International Film Festival

California Sun Animation Festival

Tortured Artists Festival, WA

Wine Country Film Festival, CA

Cleveland Film Festival

Euro Underground Film Festival
(Krakow, Berlin, Prague, Sofia-Bulgaria screenings)

Leipziger Festival fur Dokumentar und Animationsfilm, Germany

Denver Underground Film Festival

1999
Spike and Mike's Festival of Animation Volume V (video)

the Sundance Channel cable broadcast

New York Animation Festival (Jury Citation for Humor)

Canyonlands Film Festival, UT (Best Animated Film)

DVD:MAGS - Short Cinema Journal Issue #4 (DVD)

American Short Shorts Festival - Tokyo, Japan

Pacific Coast Film Festival (Animation Honorable Mention)

Helsinki Film Festival

Gen Art Summer Arts Festival, Manhattan NY

The Lost Film and Music Festival, Philadelphia

Microcinefest, MD

2000
Memphis International Film Festival, TN

Magnolia Film Festival, MS

Ragtag Film Festival, MO

Hi Mom Film Festival, NC

WTTW PBS Image Union Chicago, television broadcast

KTEH PBS San Jose, television broadcast

2001
the Don and Bill Show (touring program w/ Bill Plympton)

Texas Film Festival

Birmingham Film and TV Festival, UK

Montclair Short Film Festival, NJ

RAISAT Italy television broadcast

Indiespace First Monday Film Series, Los Angeles

Canal+ Spain television broadcast

2002
the Don and Bill Show (touring program w/ Bill Plympton)

Muskegon Film Festival, MI

Antelope Valley Independent Film Festival, CA

Best of the Cucalorus Film Festival, NC

FAN International Animation Festival, Norwich England

2003
the Don and Bill Show (touring program w/ Bill Plympton)

FAN International Animation Festival, Norwich England (Bitter Films retrospective)

I Castelli Animati Animation Festival, Italy (Bitter Films retrospective)

2004
Port City Animation Festival, NC
2005
An Evening of Bitter Films: George Eastman House, Rochester NY

"Cosmic Zoom" Animation Festival, Denmark (Bitter Films retrospective)

Big Muddy Film Fesitval, IL (Bitter Films retrospective)

2006
Bitter Films Volume One: 1995-2005 DVD

Udigrudi World Animation Convention, Brazil (Bitter Films retrospective)

2007
SFTV Swiss TV broadcast
2009
I.Sat, TBS Latin America (TV broadcast)