"Ah, L'Amour" (1995) was produced at the age of 18 during Don's freshman year at UC Santa Barbara for a beginning film production class, and was never intended to be screened publicly. Though he had some experience animating shorts on video tape, this was one of the very first things Don had ever shot on film (made most noticeable by the visible fingerprints all over the camera lens). The two minute 16mm short was nevertheless somehow completed in just a few weeks, with Don's shaky guitar soundtrack - recorded in one take in his dorm room on a broken boom-box - miraculously staying in sync.

The movie initially saw limited action at film festivals because Don was embarassed by it. He was also afraid of being pelted with rocks by angry women, until screenings revealed that women usually cheered very loudly for the cartoon girls, and always applauded much louder than the men.

A few of the "evil women" in the film are crude caricatures of some of Don's ex-girlfriends - drawn not so much out of bitterness but from running out of different hair styles to think up. No one could tell that Don drew caricatures because you can barely tell that Don drew people.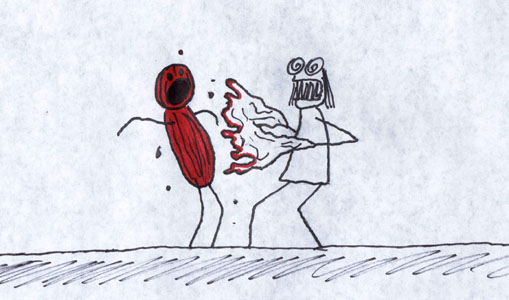 "Ah, L'Amour" became a very popular cult film that gave Don the shot in the arm to begin pre-production on Genre. "Ah, L'Amour" was still playing the midnight movie circuit in 1998 when it was awarded the HBO Comedy Arts Festival's Grand Prize Award for "World's Funniest Cartoon."
Learn more about the film in the
BITTER FILMS: VOLUME 1 DVD archive:

- "THE MEANING OF LIFE" TIME LAPSE DOCUMENTARY
- "THE ANIMATION SHOW" TRILOGY CARTOONS
- RARE FOOTAGE FROM DON'S EARLIEST CARTOONS
- ORIGINAL VIDEO PENCIL TESTS
- DELETED SEQUENCES
- "REJECTED" TEXT COMMENTARY BY DON
- "LILY AND JIM" DELETED DIALOGUES AND OUTTAKES
- "THE MEANING OF LIFE" SPECIAL EFFECTS DOCUMENTARY
- "REJECTED" ENTIRELY AWFUL AUDIO COMMENTARY
- "LILY AND JIM" REUNION COMMENTARY
- ABANDONED "SPANKY THE BEAR SHOW" FOOTAGE
- SKETCH TO SCENE COMPARISONS
- EXTENSIVE PRODUCTION NOTES
- NEVER BEFORE SEEN PHOTOS!
- BEFORE SEEN PHOTOS!
- "AH, L'AMOUR" BONUS 2005 SOUNDTRACK
- 16 PAGE RETROSPECTIVE BOOKLET
- BRAND NEW ANIMATED MENUS AND TRANSITIONS


Production Credits
Written, Directed, Animated, Produced,
Camera and Music by Don Hertzfeldt
Copyright 1995 Bitter Films

"Ah, L'Amour" Reviews
"...Don Hertzfeldt will charm your pants off with his film Ah, L'Amour, in which his stick figure protagonist experiences not only the joys of newfound love but the woes of losing it -- along with his head, his arms and legs, and yes, his skin, too."
Chipp Winston, The Santa Barbara Independent

"...Ah, L'Amour is a witty commentary on relationships and who wants what, done in a minimalist lines of black and white. The only color in the piece is red, the color of blood spilled from the body of the helpless male. The transitions between scenes are a quick image of a crumpling paper, a striking metafictional commentary. The crowd was duly impressed."
Zach Roberts, Stanford Daily Online

"The best of the bunch is Ah, L'Amour by Don Hertzfeldt... cynical but hilarious..."
Ward Triplett, Kansas City Star

"Among the best conceptualized pieces in the show are such greats as Don Hertzfeldt's Ah, L'Amour, a bitter tale of love in the modern age (complete with decapitations and flayings)..."
Brendan Cahill, UCSD Guardian

"But there's one real star here: 23-year-old Don Hertzfeldt, who says more about the trials of modern romance with a few minutes of his maladjusted stick figures in Lily and Jim and the gruesome, gleefully puerile Ah L'Amour than, say, Kevin Smith did in all of Chasing Amy... lo-fi, distinctly American aesthetic..."
Sean Richardson, Boston Phoenix

"Hertzfeldt's Ah L'Amour... is equally humorous [as Lily and Jim]. Here the tribulations of the jilted animator become glaringly, and frighteningly, apparent as the animated character is repeatedly chopped into pieces by the objects of his innocent affection. The festival is worth it just to see these two short films."
Andrew Freedman, Tufts Daily Online

"...creepy... ultra cynical.."
John Hartl, Seattle Times

"...purely genius..."
Evan Backes, Stay Tooned
Awards for "Ah, L'Amour"
| | |
| --- | --- |
| 1998 | World Animation Celebration/ HBO Comedy Arts Festival Grand Prize Award for "World's Funniest Cartoon" |