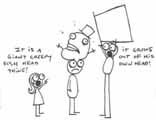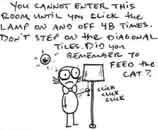 temporary anesthetics
your comic strip
"Anesthetics" was a very temporary comic strip that Don played with in the off-hours of writing and drawing "Rejected" in 1999-2000.
Many years later, the character of Bill slowly evolved into the "Everything will be OK" films, and "Wisdom Teeth" was also turned into a cartoon in 2010.
Some of these were good. Some of these were really awful. It is sort of like hunting through embarrassing junk at a yard sale.
ORIGINAL WEEKLY SERIES

PREVIOUSLY UNRELEASED
(also circa 1999-2000)
return to main menu
bitter films gallery
Unless otherwise noted, all content, animation, and photographs are ©1995-2005 by Don Hertzfeldt/Bitter Films
All rights reserved.